Florida is the leading state in the Southeast for solar power and is forecast to increase its solar capacity even more in the coming years, according to a new report.
Florida is projected to have nearly as much solar capacity by 2026 as the entire Southeast region had last year, according to a report released this week by the Southern Alliance for Clean Energy (SACE). The report found that Florida reached 7,288 MW in total installed solar capacity in 2022 and is projected to exceed 17,000 MW in solar capacity by 2026.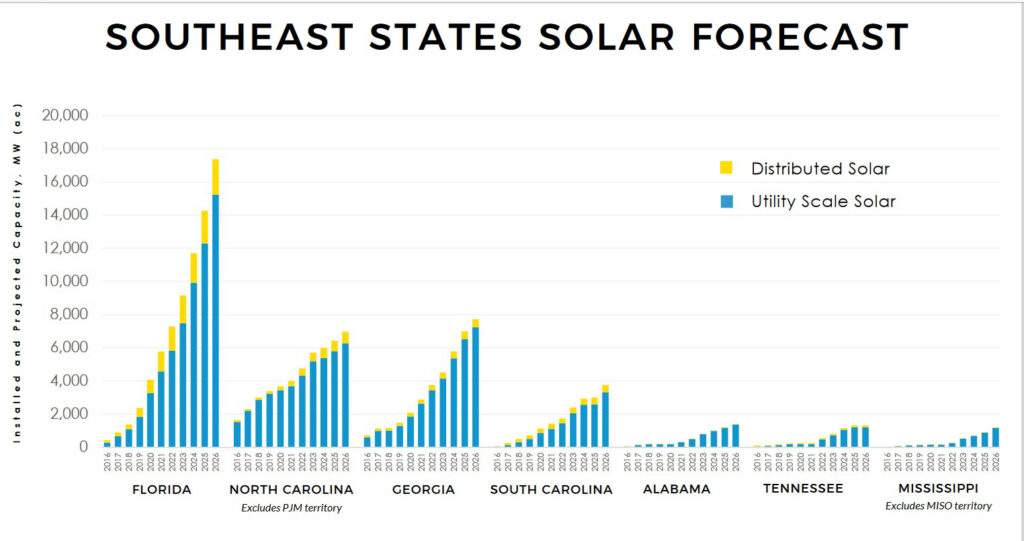 SACE's sixth annual "Solar in the Southeast" report covers solar capacity in Alabama, Florida, Georgia, Mississippi, North Carolina, South Carolina and Tennessee. The report ranked utilities in these states in terms of watts of solar power per customer, along with calculating a 2026 forecast for total solar capacity by state.
While other southeastern states ranked behind Florida, the report found that solar energy initiatives across the Southeast had overcome pandemic-related supply chain issues and were poised to use new federal funding to grow significantly in the years ahead.
"The solar industry is back," said Bryan Jacob, solar director for SACE.
Jacob said that Florida had ranked behind North Carolina in past reports before a regulatory change allowed Florida's utilities to more easily incorporate solar investments into rates. Some Florida utilities are now offering shared solar programs through a subscription model, he said.
"A lot of people in the state of Florida want to be powered by solar," he said.
Customers with rooftop solar have also benefited from Gov. Ron DeSantis's vetoing "net metering" legislation last year, Jacob said. The measure would have put limits on their sale of excess power and was supported by utilities such as Florida Power and Light (FPL).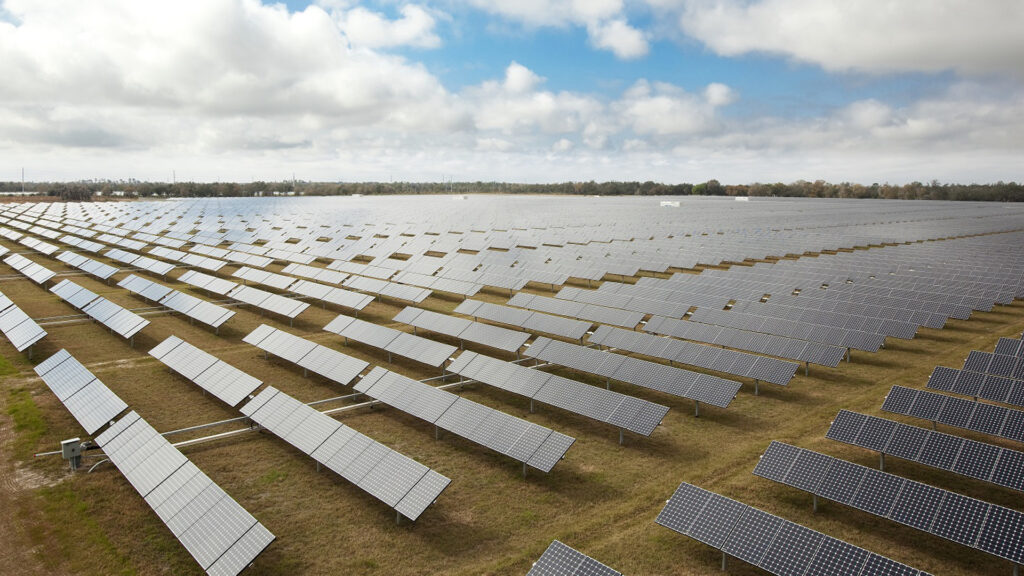 FPL is driving Florida's growth in solar capacity by building large-scape solar projects as part of its "Real Zero" goal to eliminate carbon emissions from its power plants by 2045. Stephen Smith, executive director of SACE, said FPL has one of the most ambitious solar programs in the country.
"It's really calling into question every other southern utility's commitment to this technology," Smith said.
FPL was on the report's list of "SunRisers" that exhibit the highest solar ambition over the next four years, along with Florida utilities Lakeland Electric and the Orlando Utilities Commission. The report found that Seminole Electric shed its "SunBlocker" designation of utilities with four-year forecasts below last year's average for the region, but still lagged behind other utilities.
The reported cited federal decisions last year in helping the U.S. solar industry regain its footing after a pandemic-related supply chain disruptions. They include President Joe Biden's decision to impose a 24-month moratorium on import duties on solar equipment from four Southeast Asian countries.
The report states that the Inflation Reduction Act provides new incentives for keeping the supply chain in the U.S. The law also includes a $9.7 billion grant program that is meant to empower rural electric co-ops in the Southeast to achieve clean energy adoption rates comparable to investor-owned utilities.
Smith noted that those developments come as the world is seeing consequences from climate change such as ocean temperatures reaching record highs and Canadian wildfires that have spread smoke into the U.S.
"That's why solar is such an important part of the energy solutions and how we're going to solve the climate crisis," he said.
Nathan Crabbe (ncrabbe@fau.edu) is editor of The Invading Sea. Sign up for The Invading Sea newsletter by visiting here.