A roundup of news items related to climate change and other environmental issues in Florida:
Scientists racing to save coral from bleaching are running out of space | WLRN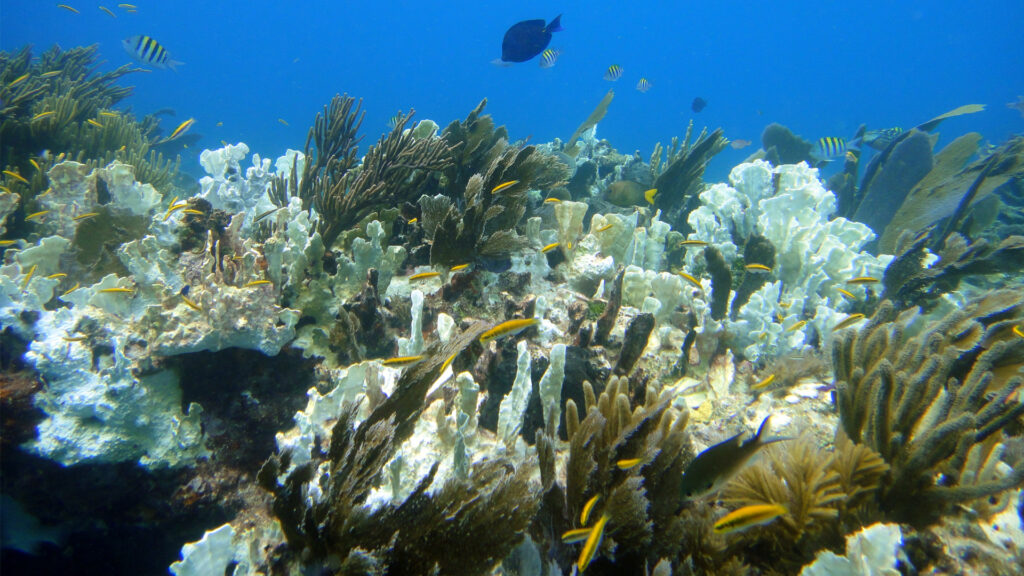 Scientists hoping to provide a genetic lifeline to Florida's ailing reef are removing hundreds of colonies of healthy coral off Miami, hoping to outpace a wave of lethal bleaching spreading from the Florida Keys.
About 400 colonies have been moved by University of Miami Rosenstiel teams in the last week to tanks at the school's fish hatchery on Virginia Key — but space is quickly running out.
"You have to realize that we're only rescuing a fraction of our stocks where we're saving key genotypes," said marine biologist Diego Lirman, whose Rescue A Reef lab oversees two nurseries off Key Biscayne. "We're leaving out there thousands of corals that we have nowhere to put."
Florida officials are testing new technology that turns algae into fertilizer | WFSU
At May's Nursery in Havana, algae is beginning to take over a nearby pond. Not only do farmers use the pond to water over 400 different species of plants, but scientists have found the pond feeds directly into the Gulf of Mexico and imposes a serious threat to the state's ecosystem.
Dan Levy is the founder of AECOM's algae practice team and is partnering with the Northwest Florida Water Management District to clean and collect algae from Northwest Florida water bodies.
"Unfortunately, when an abundance of nutrients get in our waterways, we end up forming harmful algal blooms," said Levy.
String of small fish kills along Florida Keys ring more hot water alarms. Is seagrass next? | Miami Herald
Will Benson, one of the top fishing guides in the Florida Keys, got an eerie feeling one day in early July on the water near Marathon.
A dead puffer fish floated dead on the surface — a small but significant sign that something about Benson's precious Florida Bay wasn't quite right.
Benson scooped up the fish and handed it off to the scientists at Bonefish & Tarpon Trust for further study. The tiny puffer was hardly the last dead fish he would see across the Florida Keys last month.
If you have any news items of note that you think we should include in our next roundup, please email The Invading Sea Editor Nathan Crabbe at ncrabbe@fau.edu. Sign up for The Invading Sea newsletter by visiting here.