This article originally appeared on Inside Climate News, a nonprofit, independent news organization that covers climate, energy and the environment. It is republished with permission. Sign up for their newsletter here.
By Amy Green, Inside Climate News
ORLANDO, Fla. — Long before Gov. Ron DeSantis was former President Donald Trump's chief rival for the GOP nomination, championed "anti-woke" policies on gender and race, and initiated a feud with Disney, he vowed that he would clean up Florida's treasured and troubled waterways.
DeSantis's 2018 campaign for the governor's seat coincided with widespread outbreaks of toxic blue-green algae and red tide that sickened Floridians and wiped out wildlife statewide. Lakes and rivers were choked with the horrible-smelling fluorescent-green blooms, and Florida beaches were left deserted save for tons upon tons of dead fish washed ashore by the foul tide.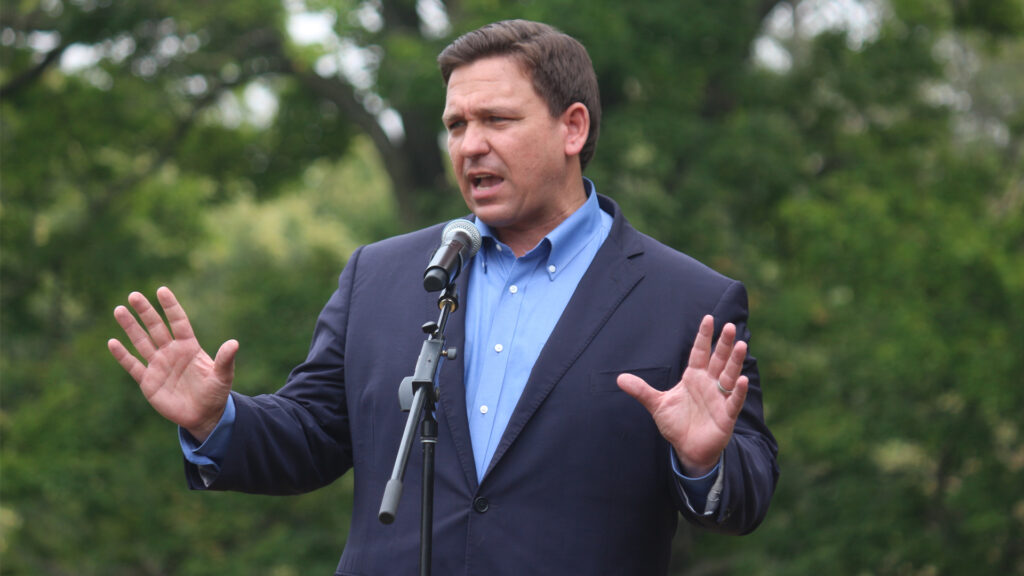 The threat was only the latest for the fragile waters in this fast-growing state, and DeSantis seemed to understand the economic impact for Floridians whose livelihoods were tied to the waterways, especially in Republican-leaning coastal areas. As a candidate, he promised to address the algae threat, and right before taking office he wrote an op-ed piece for the Miami Herald that listed the environment among his top priorities.
"I will fulfill promises from the campaign trail," he wrote in January 2019. "That means prioritizing environmental issues, like water quality and cleaning the environmental mess that has resulted in toxic blue-green algae and exacerbated red tide around the state. We will put Everglades restoration into high gear and make it the reality that Floridians have been promised."
Fast-forward to 2023. Last month, DeSantis signed into law a state budget that he described as the strongest ever for Florida's environment, with $1.6 billion for Everglades and water-quality projects.
But as he made his 2024 presidential campaign official in May and embarked on political stops from New Hampshire to Texas, the governor also signed a slate of legislative measures that will make cleaning up Florida's waterways harder. Together the measures favor more urban growth and real estate development while limiting local government efforts to address the pollution behind the toxic blooms.
Cris Costello, senior organizing manager at the Sierra Club in Florida, says that DeSantis has not followed through on his campaign promise to clean up the state's waterways. "Throwing money at something, when it is not the right thing to throw money at, is theater," she said. "I don't see anything that he has done to stop pollution at its source."
A range of other environmental advocates also argue that DeSantis's environmental policy has fallen short and that more enforcement is needed for polluters.
"Florida has some solid environmental regulations on the books," said Jen Lomberk, executive director of the group Matanzas Riverkeeper, which promotes the welfare of the Matanzas watershed in northeast Florida. "Implementation is where things start to fall apart."
Meanwhile, the toxic algae persist in Florida, and there are widespread fears about severe outbreaks again this summer, given that waterways remain swollen and stressed after the heavy rains of Hurricane Ian last September. In 2021 and 2022, nearly 2,000 manatees — more than 20% of the animal's population in Florida — died after harmful algae blooms led to seagrass losses that left them starving. 
All eyes on Okeechobee, the state's largest lake 
At the center of Florida's toxic algae problem is Lake Okeechobee, the state's largest lake at 730 square miles. Its seasonal overflows helped sustain wildlife in the Everglades for centuries. But 20th-century efforts to drain the Everglades to make way for farmland and towns ultimately led to runoff from agricultural operations, septic and sewer systems and fertilized urban landscapes. When those nutrients combine with warm summertime water temperatures, harmful algae blooms flourish.
Waterways statewide are vulnerable to those blooms, from the majestic freshwater springs in north Florida to beaches along the coasts. For Lake Okeechobee, the problem is particularly complicated because of water management procedures requiring that its water be discharged in an unnatural pattern when levels are high— that is, unleashed east and west rather than south. The discharges can spread the toxic blooms to delicate estuaries on both sides of the Florida peninsula, which is what happened in the summer of 2018, a few months after Hurricane Irma drenched the state.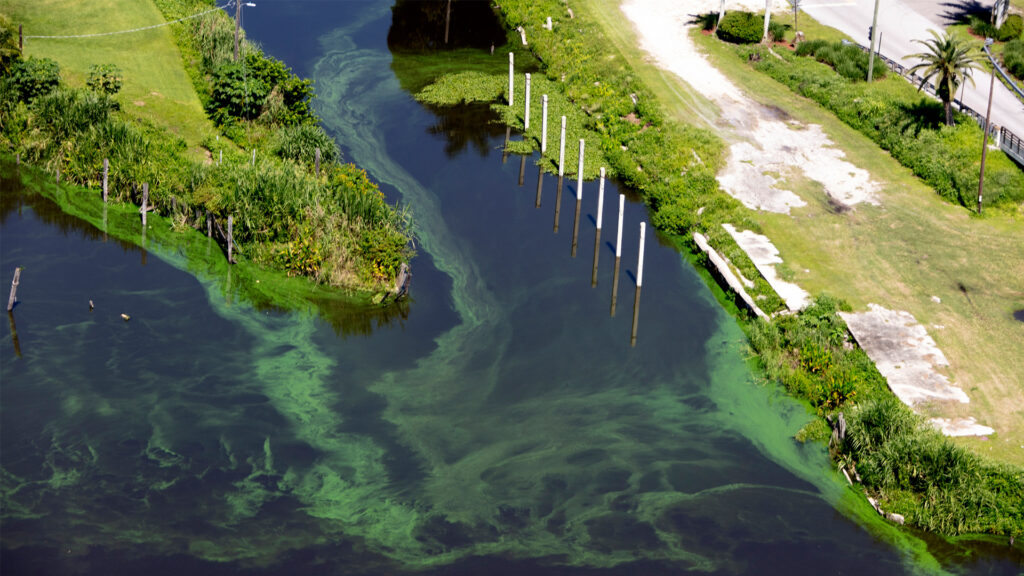 This year, Lake Okeechobee entered the hurricane season on June 1 with levels more than a foot higher than last year as Hurricane Ian's floodwaters receded into waterways while carrying a vast amount of nutrient pollution. In recent weeks, as much as 68% of the lake's surface has been sullied with toxic blue-green algae, according to satellite images published by the National Oceanic and Atmospheric Administration.
"The conditions feel pretty similar to 2018 in terms of lake height, in terms of algae blooms," said Eve Samples, executive director of Friends of the Everglades. In 2018, the lake's discharges coincided with widespread outbreaks of red tide, a form of toxic algae found in coastal waters.
After taking office in 2019, DeSantis took several steps to address the state's water quality problems, including appointing a Blue-Green Algae Task Force that would provide science-based recommendations for arresting the spread of toxic blooms. Humans who are exposed to the algae by coming into contact with the water or inhaling airborne toxins can develop a range of symptoms, including rashes, nausea, vomiting, diarrhea, respiratory ailments, and problems with the liver and nervous system, although more research is needed to fully understand the health risks.
In October 2019, the task force issued a report with recommendations for limiting nutrient pollution. The scientists called for faster progress on developing infrastructure projects around Lake Okeechobee to address the pollution there and what they viewed as damaging water management procedures.
Elsewhere in the state, the scientists wanted new infrastructure projects to prevent sewer overflows related to a rise in sea levels. For instance, they suggested backup power sources for older lift stations to prevent overflows during hurricanes and storm events that involve power losses. They recommended more state regulatory oversight of agricultural operations and wastewater systems and better water monitoring. And they cautioned that the water quality problems could worsen as a result of explosive growth and development and climate change, which is speeding a rise in precipitation and the warming of lakes, rivers and oceans.
Acting on the task force's recommendations, DeSantis signed the Clean Waterways Act in 2020. The legislation required, among other things, that the Florida Department of Environmental Protection take over the responsibility of overseeing the more than 2 million septic tanks in the state from the Department of Health. Utilities would have to draft inspection, maintenance and replacement plans for their wastewater systems, and the Department of Agriculture and Consumer Services would need to expand its supervision of agricultural operations.
DeSantis also maintained the restoration of the Everglades as a priority, consistently devoting millions of dollars to the effort. The centerpiece of his policy was a massive reservoir south of Lake Okeechobee aimed at cleaning and conveying more water south, where the waters of the Everglades once flowed, rather than east and west. Construction of the reservoir began in February.
Some environmental groups regarded the measures as groundbreaking after several years of relative inaction.
"The work that he has done on Everglades restoration under his leadership has been extraordinary," said Julie Wraithmell, executive director of Audubon Florida. "Floridians want to see progress, and they are eager for solutions. I think he has been very direct about outlining a plan and driving toward those solutions. These are problems that were 100 years in the making, and it takes some time to reverse them."
Lamenting a lack of regulatory teeth
But for others, the measures were not enough. Lomberk said the 2020 Clean Waterways Act lacked regulatory teeth and enforcement power.
"It said a lot of things without actually accomplishing a whole lot," she said. "You can adopt rules that are effective or rules that don't really move the ball very far."
Last year, a coalition of groups including the Save the Manatee Club, Friends of the Everglades, the Surfrider Foundation and the Florida chapter of the Sierra Club came together to review the task force's 2019 recommendations and assess how the state had acted on them. Focusing on legislation and rulemaking from 2020 to 2022, the coalition concluded in a report that only 12.5% of the recommendations had been implemented.
The report said that few new infrastructure projects aimed at limiting nutrient pollution and improving the flow of water had been proposed or funded around Lake Okeechobee. While some of those projects were under construction, the report said that those predated the release of the task force's recommendations in 2019.
Separately, some of the groups were raising concerns about the design of the reservoir, which DeSantis had heralded as the "crown jewel" of Everglades restoration. The groups said the reservoir would be too deep, fostering the growth of toxic blooms, and that it would not convey enough water south or clean the water to established standards, among other worries.
While the Department of Environmental Protection had assumed regulatory oversight for the state's septic tanks, the oversight itself had not expanded, and the program had continued to operate under the same rules. The report said that regulatory enforcement for agricultural operations had improved somewhat, however, with more farmers complying with regulations aimed at limiting fertilizer use, for instance, a major factor in nutrient pollution.
"The creation of the Blue-Green Algae Task Force was arguably the best thing DeSantis has done for addressing this problem," said Samples of Friends of the Everglades. "However, there still is a huge divide" between the "recommendations that they have made and the policy measures getting enacted by the state." She said that more regulatory enforcement of polluters is needed.
Last year, DeSantis handily won re-election, and in January he issued an executive order on the environment that proposed spending $3.5 billion over four years on the Everglades and water quality — the highest level of funding for those issues in state history, the governor said. The order called for expenditures on the Indian River Lagoon in eastern Florida, where the manatee die-off had led wildlife agencies to provide supplemental lettuce for the starving animals on an emergency basis. 
The order also amplified the need for consistent and meaningful funding for land conservation and, in a nod to the problems of population growth and nutrient pollution, for improving local government planning to ensure that development will be sustainable.
In June, after the end of the spring legislative session, DeSantis signed into law a state budget that provided more than $3.8 billion for Florida's environment, including $59 million for harmful algae blooms. It devoted nearly $1 billion to land conservation, including $850 million for two areas within the state's Florida Wildlife Corridor: one in the southwest important for the Everglades and the Florida panther, and one in north central Florida vital to preserving endangered plants and animals.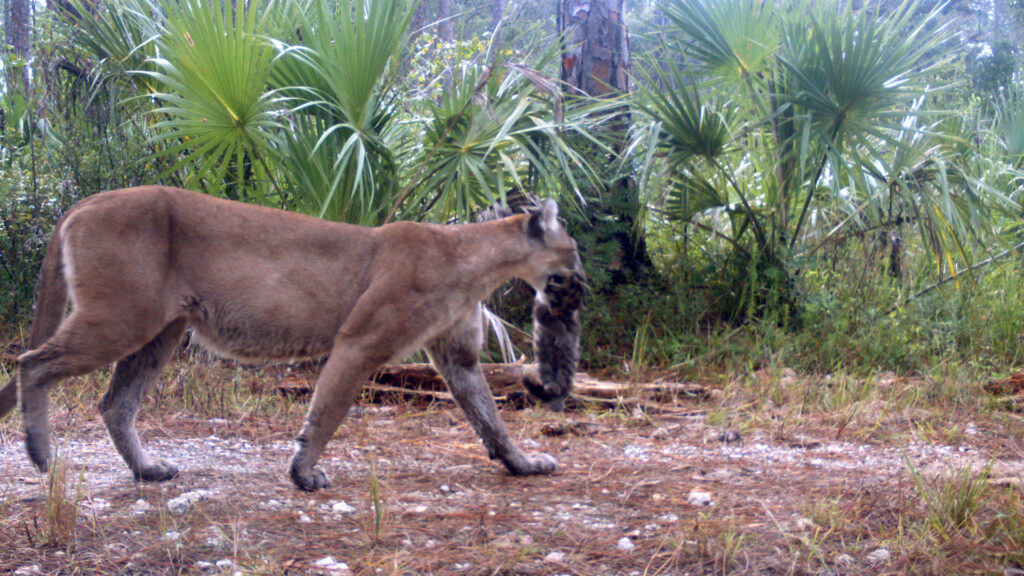 The budget also includes $100 million for Florida Forever, a state land-buying program for conservation purposes. Environmental groups welcomed the funding, but some said the governor was addressing the symptoms of the toxic algae problem without doing enough to tackle the cause: nutrient pollution.
"The numbers don't tell the full story," Samples said. "When you look at what the money is going toward, it's not exactly the vision that we work toward, which is a truly restored Everglades, which works with nature and not against it."
Meanwhile, the governor signed several other measures approved during the spring legislative session that appeared to contradict the January executive order on the environment. Notably, one bill threatened severe financial consequences for any citizen who filed an unsuccessful challenge to an amendment to a local comprehensive plan paving the way for more development.
Environmental groups fear that the measure will have a chilling effect on all such challenges. A citizen who filed one and then lost would be responsible for all legal fees incurred by the local government and any developers who got involved.
A provision in the state budget put a freeze on new local fertilizer restrictions for a year, pending a study on the rules and their impact. Fertilizer restrictions are a common way for local governments to manage nutrient pollution in the rainy summer months.
Another bill included multiple measures to speed recovery from Hurricanes Ian and Nicole, like one that will allow for faster rebuilding by preventing local governments from toughening development or building standards. Some environmental groups worry that it will clear the way for more construction in hazardous areas. 
"He hasn't really seemed to want to address possible causes of a lot of these environmental problems," said Aubrey Jewett, an associate professor of political science at the University of Central Florida. "He's willing to throw some money at some solutions to try to mitigate some things, but he hasn't shown much effort to cut down on these problems and stop them from happening."
Eclipsed by hot-button issues
Jewett observed that the governor's environmental measures have generated fewer headlines than his school initiatives restricting classroom discussion of LGBTQ+ people and the painful history of people of color.
"He really has been emphasizing the culture war, anti-woke issues, because he knows that's what mobilizes and motivates potential Republican presidential primary voters across the country," Jewett said. "It may also be it just doesn't mean all that much to him. He's a political animal.
"Maybe he was only emphasizing [toxic algae and water quality] in 2018 because it was top-of-mind for so many Floridians that year," he added,
While the toxic algae bloom in Lake Okeechobee this summer is reminiscent of the problem in 2018, some positive changes have been welcomed. The U.S. Army Corps of Engineers recently completed a restoration of the mammoth earthen dike surrounding the lake, which protects neighboring communities from catastrophic flooding — a federal project that did not directly involve DeSantis. Federal water managers say the dike's stronger structure gives them more flexibility in managing the lake, and they have no immediate plans for discharges that could spread toxic algae to coastal estuaries.
In 2020, the South Florida Water Management District began enforcing a task force recommendation to expand water monitoring. With more water-quality data, the district is better able to respond to outbreaks of harmful algae, said Lawrence Glenn, director of its Water Resources Division. The district now douses small blooms with products designed to kill them. Water managers also are working on new computer modeling that will help them stave off toxic algae blooms before they occur.
"After 2018, we realized that we needed to be highly proactive," Glenn said. "Our hope is that we don't have large storm events this summer, that the lake just continues to fill at a regular rate that wouldn't require large releases to the estuaries."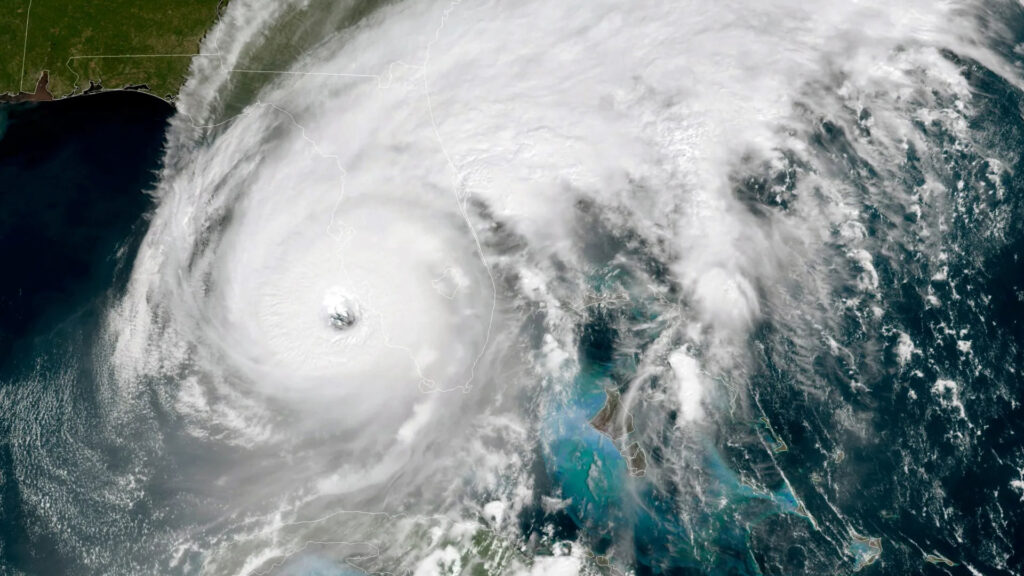 Mindful of the riotous bloom of toxic algae after the 2018 storms, Floridians are watching Lake Okeechobee with unease. Colorado State University researchers recently revised their forecast for the 2023 Atlantic hurricane season and now predict 18 named storms, up from 15.
That includes nine hurricanes, four of them of category 3, 4 or 5 strength, packing sustained winds of 111 miles an hour or more. The revised prediction was based on record warm sea surface temperatures in most of the tropical and subtropical Atlantic Ocean. Heavy rains could raise Lake Okeechobee to the point where discharges to the estuaries would be needed to manage flooding risks.
Costello of the Sierra Club says that toxic algae will continue to be a concern until more is done to address the nutrient pollution at the heart of the blooms. There should be more regulatory enforcement for polluters, she contends, and more infrastructure projects to improve water quality.
"Our water bodies have reached a tipping point: that they can no longer take human pollution in and not react violently,'' she said. "And so every rainy season, and many times way outside the rainy season, our water bodies are so full of the fuel that makes harmful algae blooms longer and bigger."
"Until we stop the pollution, it's going to continue to get worse."
Amy Green covers the environment and climate change from Orlando, Florida. She is a mid-career journalist and author whose extensive reporting on the Everglades is featured in the book "Moving Water," published by Johns Hopkins University Press, and podcast "Drained," available wherever you get your podcasts. Amy's work has been recognized with many awards, including a prestigious Edward R. Murrow Award and Public Media Journalists Association award.
This story was produced in partnership with the Florida Climate Reporting Network, a multi-newsroom initiative founded by the Miami Herald, the South Florida Sun Sentinel, The Palm Beach Post, the Orlando Sentinel, WLRN Public Media and the Tampa Bay Times.
Sign up for The Invading Sea newsletter by visiting here. If you are interested in submitting an opinion piece to The Invading Sea, email Editor Nathan Crabbe at ncrabbe@fau.edu.