This article originally appeared on Inside Climate News, a nonprofit, independent news organization that covers climate, energy and the environment. It is republished with permission. Sign up for their newsletter here.
By Amy Green, Inside Climate News
MIAMI — On another hot September day here, Bereatha Howard sat sipping water in the dappled shade of a leafy tree. The high temperature over at Miami International Airport was 92 degrees Fahrenheit, but in this spot it likely was hotter.
The shady tree offered some relief from the heat rising from the busy streets and reverberating among the tall buildings surrounding the park where the tree stood in the historically Black neighborhood of Overtown northwest of downtown. The temperature in this neighborhood typically is a half-degree Celsius above the citywide average, according to one study.
Across the city in the more affluent Coral Gables, where the University of Miami is located, the temperature can be as much as 8 degrees Celsius below the citywide average. Howard was born and raised in Overtown. She now works in Coral Gables and lives in nearby Liberty City, another historically Black Miami neighborhood, and she can notice the temperature differences, and sees the factors that contribute to them. Coral Gables, for instance, features more tree-lined streets and convenient bus stops, she said.
"The heat is a factor," said Howard, climate equity program manager at the CLEO Institute, an environmental advocacy group. "It makes you have to make decisions. I'm trying to think how long can I do this, be healthy, arrive to work on time. Sometimes I can't take it."
A growing volume of evidence suggests the temperature differences are no coincidence. Nationwide the hottest urban areas tend to be the neighborhoods with low-income communities and communities of color. In nearly every instance, researchers can trace a link to a nearly century-old federal program aimed at helping homeowners during the Great Depression that was turned against those who needed it most, because of a practice known as redlining.
Redlining involved distinguishing certain neighborhoods as "hazardous" for mortgage lending, based largely on race. Residents of these neighborhoods were denied home loans, leading to lower home values and less homeownership. Although redlining ended in 1968 with the Fair Housing Act, the practice has contributed to a legacy of segregation and disparities for these neighborhoods that remains evident today when it comes to health care, education, incarceration, access to nutritious food and public investment in infrastructure.
The neighborhoods also are physically hotter. A study of 108 historically redlined cities nationwide found temperature differences in 94 percent of them, and that the differences were consistent with racial and economic makeup. The greatest differences were in the Southeast and West, while the Midwest displayed the least.
Historic systemic racism and ongoing inequities didn't just leave the neighborhoods markedly hotter, said Jeremy Hoffman, a co-author of the study and director of climate justice and impact at Groundwork USA, a network of local groups aimed at revitalizing low-income communities.
These same neighborhoods often have the least resources for dealing with the blistering heat. Residents tend to pay greater proportions of their income toward housing and energy costs and also have less access to health care.
"Regardless of their region or climate background zone, the same types of people were being exposed," Hoffman said. "You have infrastructure that amplifies extreme heat being concentrated in Black communities, while being restricted or not allowed in wealthier whiter communities."
The Biden administration announced plans Friday to put $1 billion toward enhancing tree canopies in urban areas as a means of addressing extreme heat and climate change. Extreme heat, like other climate change impacts, is poised to exacerbate existing inequities, an issue that must be addressed, said Robert Bullard, director of the Bullard Center for Environmental and Climate Justice at Texas Southern University.
"Zip code is one of the best predictors for health and well-being," said Bullard, who is the author of 18 books on urban land use, environmental racism and sustainable development.
"We have to understand that we just can't assume that all communities were created equal," he said. "If you apply the resources equally across the board you will not address those communities that have been left out and left behind for decades."
'Hazardous' neighborhoods
Heat is the leading weather-related killer in the United States. Excess heat affects the body's ability to regulate its internal temperature, which can lead to heat cramps, heat exhaustion and heatstroke. Heat also can exacerbate nervous system, respiratory, cardiovascular and diabetes-related conditions and even can affect children's ability to learn.
The warmer temperatures also can affect mental health. The mind suffers because of the physical discomfort. Heat can change the brain by altering signaling and augmenting inflammation. This can increase mental fatigue, aggression and even suicide rates.
Urban landscapes tend to amplify heat because of their hard surfaces and scarcity of shady trees, cooling greenery and flowing water. The hottest neighborhoods often feature large, built structures like warehouses, manufacturing facilities and multi-family apartments constructed with heat-retaining materials and less energy efficiency. Highways splicing through the neighborhoods also contribute to the problem. Together these factors can lead to a phenomenon called the urban heat island effect.
"When you're thinking about the most uncomfortable place to be during a heat wave, what comes to mind? An empty, shadeless parking lot," Hoffman said. "Almost without exception formerly redlined areas tend to have the lowest tree canopy. They tend to look grayer."
"I think about it as trying to put yourself in the shadows of two people living in the same city but in different neighborhoods," he said. "These individuals living in a redlined neighborhood might wake up in a non-air conditioned house to walk to an exposed bus stop to go to a job that is more likely to be outdoors manual labor, some sort of service job. And then they leave that job to go back through a hot neighborhood without trees to get back to a non-air conditioned house."
One reason these neighborhoods were developed this way was the Home Owners' Loan Corporation, established during the 1930s as part of the New Deal. The government-sponsored corporation was aimed at refinancing mortgages at lower interest rates to prevent foreclosures.
As part of the process, color-coded maps were created of 239 cities nationwide. Neighborhoods deemed "best" for real estate investment were outlined in green, "still desirable" neighborhoods in blue, "definitely declining" neighborhoods in yellow and "hazardous" neighborhoods in red.
The ratings were based largely on race, and although the effort was a federal one, the ratings were determined by local mortgage brokers and real estate agents, reflecting local biases. Because of how redlining affected real estate investment in these neighborhoods, they also are more susceptible to other climate change impacts like hurricanes and flooding, Bullard said.
"What you had in place was government-funded and government-sanctioned racial segregation and the use of federal dollars and government-sanctioned and approved policies that denied Black and brown communities resources that could have moved them into the middle class," he said. "What you see over the last eight decades is a pattern that has emerged where money follows money, money follows power and money follows whites."
Complicated work
In Miami, only a few neighborhoods were recognized as "best" for real estate investment, including northern Miami Beach, portions of Coral Gables and a few bayfront neighborhoods. The neighborhoods featured larger more expensive homes on sizable lots, with native-born white residents who were wealthy professionals and retired businessmen, according to a Florida Atlantic University academic paper describing the history.
Some of the ratings were based on the distribution of Cubans and Jews, whose neighborhoods were ranked below those of whites but above Black neighborhoods. The Black neighborhoods received the worst ratings and were left with no investment money.
Today these residents are feeling the heat. Another study found that some zip codes had more than four times the number of emergency room visits and hospitalizations related to heat compared with other neighborhoods, a disparity that correlated somewhat with the distribution of formerly redlined neighborhoods, said Jane Gilbert, Miami-Dade County's chief heat officer.
Gilbert was the first such public official in the world when she started in the position in May 2021. Since then she has thought a lot about how to cool these neighborhoods by, for instance, enhancing their tree canopy.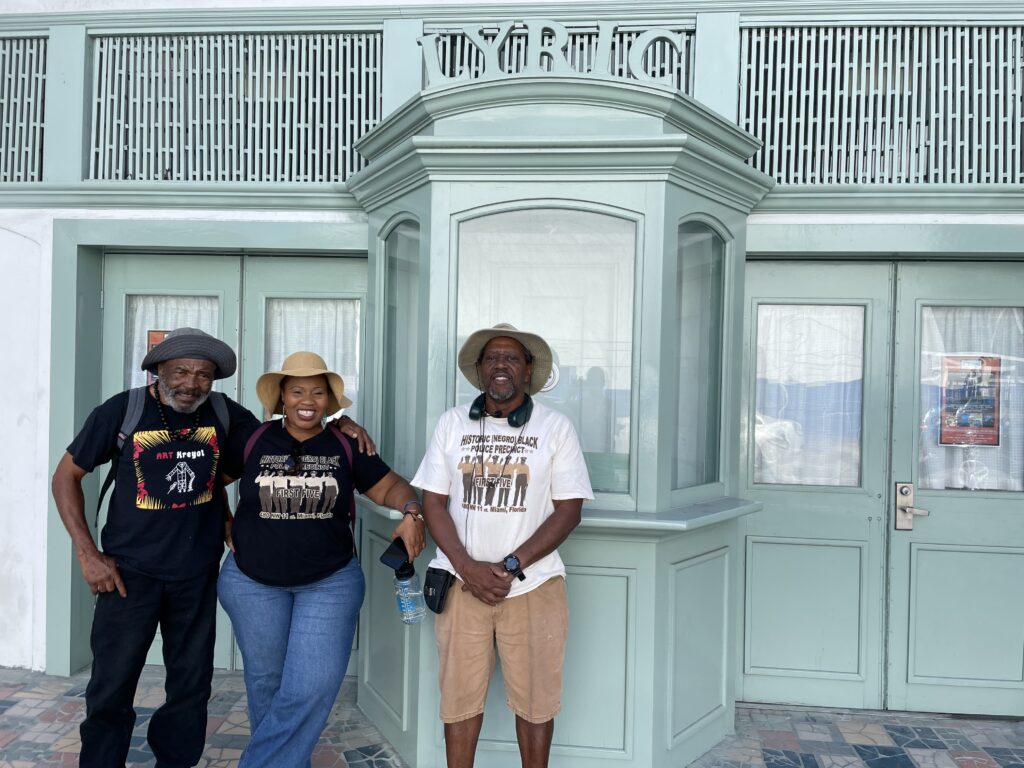 Yet another study found that areas with higher household incomes tended to have more shady trees, while those with large Hispanic populations had fewer trees, although there was no significant difference in tree canopies for predominantly Black neighborhoods. Coral Gables had the most robust tree canopy at 44 percent of its land area, while in mostly Hispanic Medley the tree canopy was just 5 percent.
Leaders here have invested in other efforts under Gilbert's leadership, like providing air conditioners for public housing residents to ensure access to affordable cooling. But the work can be complicated, she said. For instance some residents may not want trees cluttering up their yards. Many Hispanics live in multi-generational homes, and they may prefer to use the yard space for parking multiple cars.
"The areas that we need to cool the most are also sometimes the hardest to site trees successfully. In other words they're very dense. You have competition for infrastructure needs," she said. "Just having the money to plant trees is not going to solve all the problems. It's going to take extensive outreach and buy-in on our part, and a lot of community-based local partnerships."
There are other ways of addressing the problem, like designing and building structures with heat in mind so that cooling them requires less effort and expense. Whatever the strategy, the residents of formerly redlined neighborhoods must be involved, Bullard said. Excluding them only deepens distrust and the disparities involving power and influence that led to the problem.
"The most important thing is to make sure that the communities that are on the frontline of climate impacts and those communities that have been historically left out and left behind need to be in those rooms at those tables," Bullard said. "They need to speak for themselves."
'You can feel it on your skin'
Overtown was a thriving Black Miami neighborhood in the early 20th century, with businesses like grocery stores, barber shops and restaurants, said Keith Ivory, a local historian. The Lyric Theater drew luminaries like Mary McLeod Bethune, advisor to President Franklin Roosevelt and founder of today's Bethune-Cookman University in Daytona Beach, and the Fisk Jubilee Singers, widely known for their performances of African-American spirituals.
Plentiful trees offered shade and a cheap and easy meal of their fruit. Eventually redlining would leave the neighborhood bereft of resources, and Interstate 95 and State Road 836 would criss-cross through the heart of the neighborhood, leaving it fragmented.
Today, the Lyric Theater and other historical remnants remain vibrant, but Overtown largely is characterized by modest businesses and multi-family apartments, many with window air conditioning units that scarcely seem able to beat the heat. The tree canopy has been reduced to 12 percent, and the household poverty rate is 49 percent.
"The temperature is very, very hot," said Ivory, in the midst of a mid-day walking tour of Overtown. He wore a hat, a battery-powered contraption around his neck with fans at either end, and carried a bottle of water. "You can feel it on your skin," he said.
Groups like the CLEO Institute and Catalyst Miami are working alongside leaders like Gilbert, the chief heat officer, to raise awareness about the intensifying heat and advocate for solutions, like enhancing access to the neighborhood pools.
But in a city where affordable housing is scarce, there is pressure to continue building, and that is raising concerns about how more asphalt and concrete will contribute to hotter temperatures, said Nicole Crooks, Overtown community engagement manager at Catalyst Miami.
Overtown faces many challenges, perhaps the most existential being whether rising rents and gentrification eventually will force residents from their homes, leaving them with no place to go. All around Overtown's perimeter newly built condo buildings loom high overhead, and more are under construction. Crooks said any solutions must begin with residents here.
"We cannot leave out the legacy and the history because that is the resilience," said Crooks, who lives in Overtown with two of her three children. "We existed and thrived and were resilient in spite of everything."
For Howard, of the CLEO Institute, the day begins at the bus stop. When it is too hot she hails an Uber driver. She works in an office but sometimes is involved in events outside. She feels fortunate to return home to an air-conditioned apartment, where she lives alone.
She recalls a day when while driving she noticed a man lying beside a bus bench. She pulled over and dialed 911, and the paramedics were able to revive him. The man had diabetes, and without any water with him the heat had gotten to him.
"To me that was like a wakeup. So many people depend on public transportation," she said. "We have to do what we need to do to adapt, for the safety of ourselves and our family and friends."
Amy Green covers the environment and climate change from Orlando, Florida. She is a mid-career journalist and author whose extensive reporting on the Everglades is featured in the book "Moving Water," published by Johns Hopkins University Press, and podcast "Drained," available wherever you get your podcasts. Amy's work has been recognized with many awards, including a prestigious Edward R. Murrow Award and Public Media Journalists Association award.
This story was produced in partnership with the Florida Climate Reporting Network, a multi-newsroom initiative founded by the Miami Herald, the South Florida Sun Sentinel, The Palm Beach Post, the Orlando Sentinel, WLRN Public Media and the Tampa Bay Times.
Sign up for The Invading Sea newsletter by visiting here. If you are interested in submitting an opinion piece to The Invading Sea, email Editor Nathan Crabbe at ncrabbe@fau.edu.