By Sarah Shepard, Conservation Florida
Conservation Florida, a dynamic leader in statewide land conservation, in partnership with the Florida Department of Environmental Protection and the U.S. Department of Defense, has permanently conserved the 2,526-acre Role Tran property (previously known as Triple Diamond Ranch) in Okeechobee County. This protection project further links the Florida Wildlife Corridor.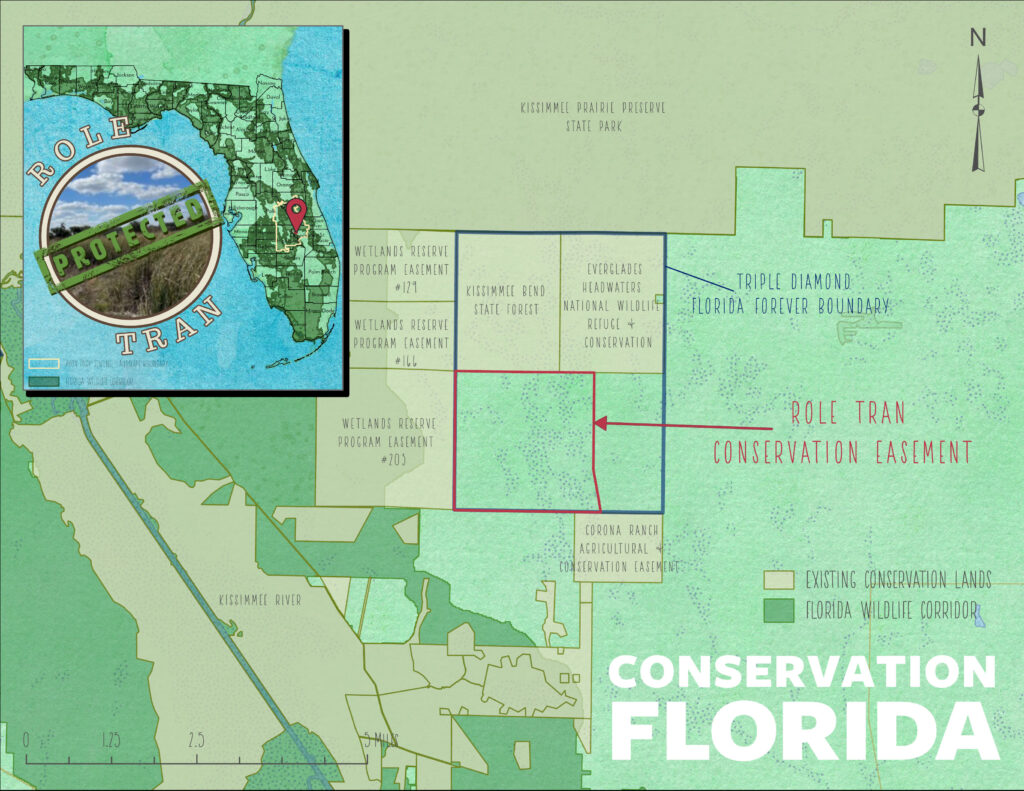 "The conservation of land to create a conserved wildlife corridor spanning our state is not only necessary for wildlife such as the Florida panther, black bear and gopher tortoise, but also for protecting our water, economy and way of life," said Traci Deen, CEO of Conservation Florida. "We're grateful for our partners at FDEP and DOD, as well as the Lightsey family, for conserving a piece of the corridor puzzle that furthers so many important conservation priorities for Florida."
Located in the northern Everglades, Role Tran is directly adjacent to the vast Kissimmee Prairie Preserve State Park, acting as an additional linkage to creating a strong and functional Florida Wildlife Corridor that makes up more than 200,000 acres of landscape-sized protection area.
Its location near the Avon Park Air Force Range also made it a priority for the U.S. Department of Defense's (DOD) Readiness and Environmental Protection Integration program.
The property is situated within the Kissimmee River Basin and the headwaters of Lake Okeechobee and the Everglades.
The protection of this intact landscape allows for the management of thousands of acres that serve as habitats for rare vertebrate wildlife like gopher tortoises, considered a threatened species under the Endangered Species Act.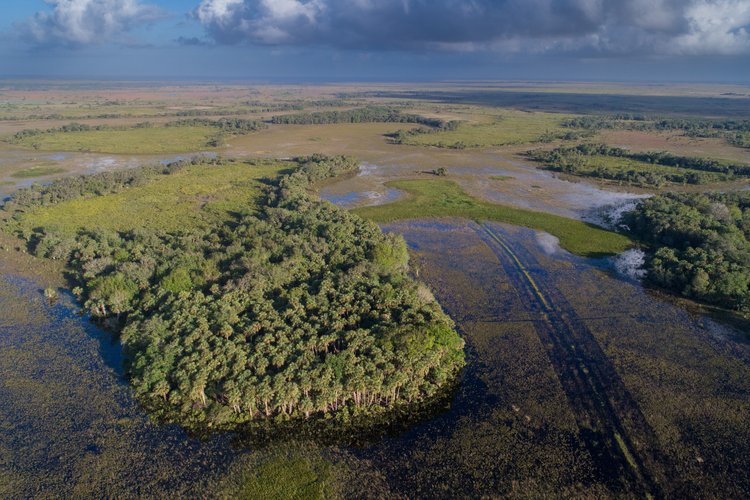 A beautiful upland hardwood forest deep within Role Tran is just one of the natural wonders now permanently protected. Upland forests are known for their dense tree canopies and deciduous tree species, and they provide a cooler atmosphere under their branches for many plants and wildlife.
Another type of forest, a mesic hammock unique for its evergreen trees, cabbage palms and saw palmettos, can also be found on the property.
Aside from forests, you'll find wet prairies, damp and sloped. The Role Tran property, richly diverse in its ecosystems, clearly marks the importance of preserving and protecting our Florida wildlands.
Role Tran is a working cattle ranch, home to roughly 70 head of cattle. A hidden hero, vast, open ranchlands are necessary to conserve to protect a connected, functional Florida Wildlife Corridor.
"Our family is proud to contribute to the conservation of Florida's wild and working agricultural lands and the Florida Wildlife Corridor," said Lee Lightsey, partner and owner of Role Tran. "It was a pleasure working with Conservation Florida to see our land protected. We're grateful to the Florida DEP for acquiring an easement on our land that both protects natural values while also allowing our family to continue to promote outdoor recreation and agriculture."
Sarah Shepard is communications manager for Conservation Florida. For more information on Conservation Florida, visit conservationfla.org
If you are interested in submitting an opinion piece to The Invading Sea, email Editor Nathan Crabbe at ncrabbe@fau.edu. Sign up for The Invading Sea newsletter by visiting here.