By David Reichmuth, Union of Concerned Scientists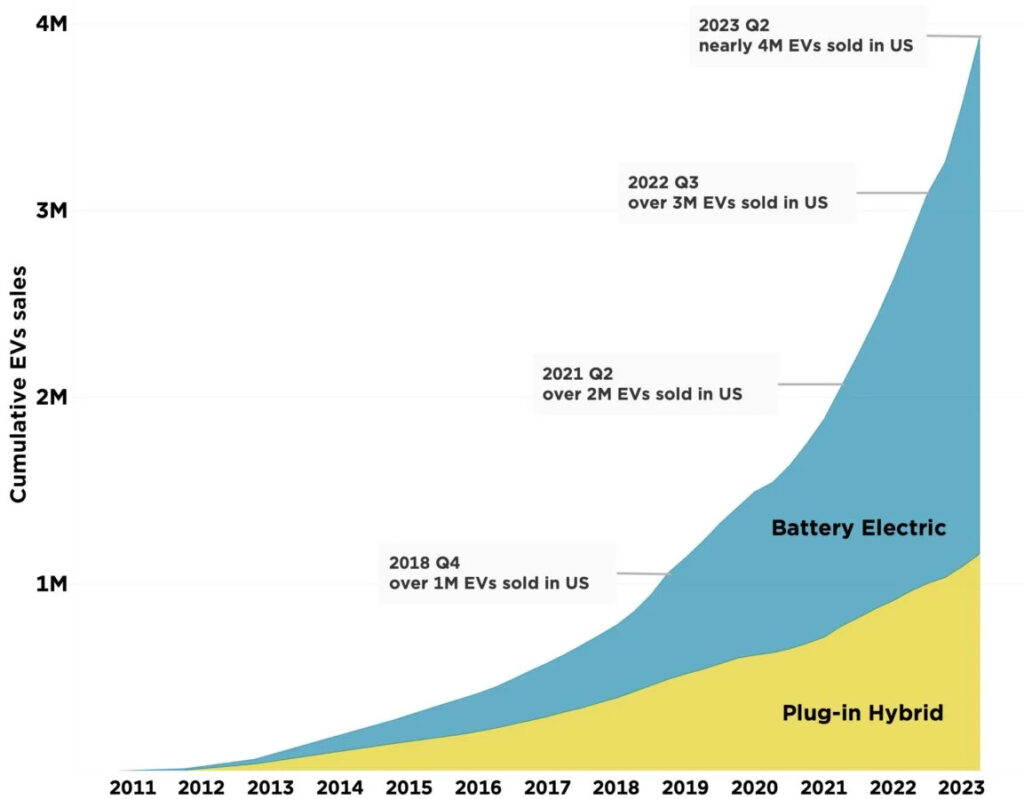 With more electric vehicle choices than ever, EV sales in the U.S. are hitting new heights. In just the first half of 2023, over 670,000 EVs were sold with over 80% of those fully-electric battery electric vehicles. It took eight years for the first million EV sales – but now more than a million have been sold in just the past 12 months.
Several factors are likely responsible for electric vehicles (EVs) hitting a tipping point in sales. More EV models are now available, from small cars to pickup trucks, meaning more buyers have an electric option that meets their needs. More widespread adoption of EVs across the U.S. is also a factor.
We're seeing EV sales increase outside of California, the historical leader for EV sales. From 2014 through 2017, more than half of all EVs sold in the U.S. were purchased in California, but that fraction has now fallen to one third. While many Californians are used to seeing EVs in their neighborhood, it's only in the last few years that we've seen large increases in sales in other states.
Florida and Texas are now second and third in cumulative EV sales, despite state leadership that has been antagonistic toward EVs and a more conservative-leaning population. The higher EV sales volume in Florida and Texas is in part tied to the higher population there, but there are signs that buyers across the political spectrum are interested in EVs
Many buyers are likely swayed by the fact that they can save money on gasoline and greatly reduce their emissions at the same time. Gasoline continues to be at near-record prices and as we see more impacts from climate change people are interested in what they can do to lower emissions.
Switching vehicles from gasoline to electricity is one of the most effective actions households can take to reduce their contribution to climate change. It also doesn't hurt that today's EVs are fun to drive and can take advantage of a quickly growing network of charging stations.
Switching from gasoline to electricity can greatly reduce heat-trapping emissions
Transportation is the largest source of heat-trapping emissions in the U.S. and the passenger vehicles many of us drive are responsible for the majority of transportation global warming emissions. EVs can eliminate tailpipe emissions altogether and are also more efficient than gasoline vehicles, making EVs an important technology for reducing both global warming and harmful air pollution from personal transportation.
Because of differences in electricity generation across the United States, the emissions produced from driving the average EV varies depending on where the vehicle is driven. Despite this variance, driving the average EV results in lower emissions than the average new gasoline vehicle everywhere in the United States.
But how do specific vehicles help reduce emissions where you live? We have a tool available that answers that question.
Below are a few examples. Using the calculator will allow you to customize the results for your location and the EV of your choice.
In Dallas, Texas, (ZIP code 75204) driving an electric Ford F-150 Lightning results in emissions from electricity generation equal to a 50 mpg gasoline truck. Since the gasoline versions of the F-150 get between 12 and 25 mpg, switching to the electric version can result in 50% to 75% reduction in heat-trapping emissions.

In rural Vermont (ZIP code 05363), driving an efficient EV like the Hyundai Ioniq 6 produces much, much lower emissions than any gasoline car or truck available, equal to a hypothetical 145 mpg gasoline car. Put another way, driving 2,070 miles in a 30 mpg gasoline car would have the same climate-changing emissions as driving this EV 10,000 miles.

Finally, let's look at driving an electric SUV in Idaho. Using a 7-seat Rivian R1S SUV in Coeur d'Alene, Idaho, (ZIP code 83814) would have emissions like a 64 mpg gasoline vehicle, or about one third the emissions of the average gasoline SUV or truck.

You can also save money on refueling with an EV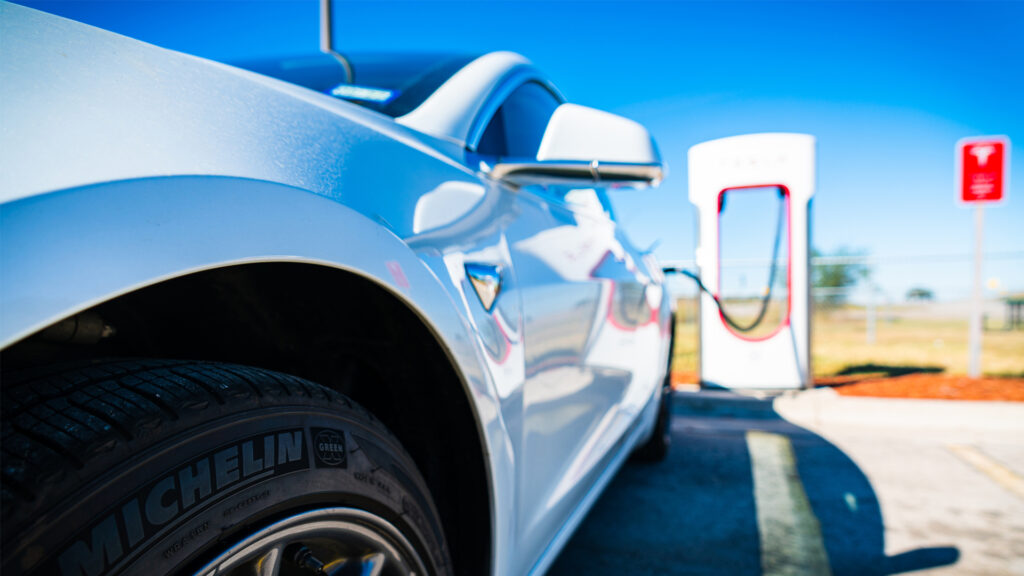 Recharging an EV at home also can mean significantly lower costs in addition to lower emissions. For example, electricity in Dallas costs between 13 and 17 cents per kWh, making the cost to drive an electric Ford F-150 100 miles between $6.20 and $8.15. Based on the current gasoline prices, driving a gasoline F-150 100 miles would cost from $13.50 to over $28, depending on the version of F-150.
Similarly, driving a Hyundai Ioniq 6 100 miles and recharging at home in Southern Vermont would cost between $2.90 and $4.25, depending on the electric rate plan. Driving a gasoline-powered Hyundai Kona 100 miles would cost about $11.85.
And looking at an electric SUV in Idaho also shows significant saving versus a gasoline SUV. A Rivian R1S costs about $3.70 to drive 100 miles when recharged at home. A Dodge Durango refueled in Idaho would cost $19.50 for the 6 cylinder model and over $24 for the 8 cylinder version to go 100 miles.
More US drivers are picking EVs than ever before because EVs are a better option
EV sales in the U.S. are ramping up, in part due to more models available than ever before. This is good news for slowing climate change as EVs produce much lower emissions from driving now, and this will get even better as we switch to cleaner sources of electricity. It's also good for households across the U.S. as switching from gasoline to electricity can have significant saving on refueling costs.
David Reichmuth is a senior engineer in the Clean Transportation Program at the Union of Concerned Scientists. Dr. Reichmuth's work focuses on analyzing new vehicle technologies and advocating for policies that support the increased electrification of transportation. Dr. Reichmuth has testified at hearings before the U.S. House of Representatives, the California State Legislature and the California Air Resources Board, and he is an expert on California's Zero Emission Vehicles regulation.
This piece was originally published at https://blog.ucsusa.org/dave-reichmuth/electric-vehicle-sales-in-us-hit-the-accelerator-pedal/
Sign up for The Invading Sea newsletter by visiting here. If you are interested in submitting an opinion piece to The Invading Sea, email Editor Nathan Crabbe at ncrabbe@fau.edu.