A roundup of news items related to climate change and other environmental issues in Florida:
Some houses are being built to stand up to hurricanes and sharply cut emissions, too | Associated Press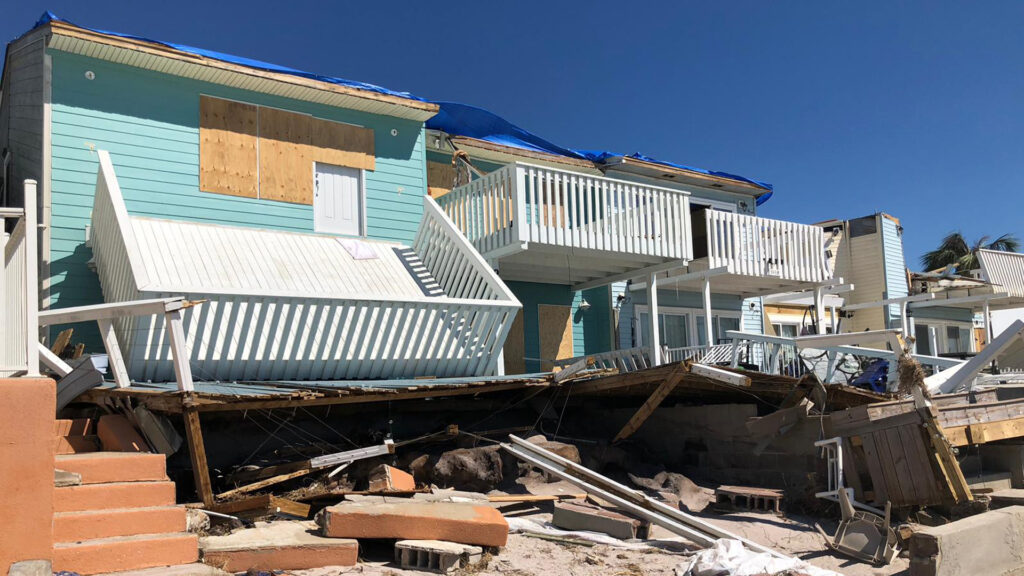 When Hurricane Michael hit the Florida Panhandle five years ago, it left boats, cars and trucks piled up to the windows of Bonny Paulson's home in the tiny coastal community of Mexico Beach, Florida, even though the house rests on pillars 14 feet above the ground. But Paulson's home, with a rounded shape that looks something like a ship, shrugged off Category 5 winds that might otherwise have collapsed it.
"I wasn't nervous at all," Paulson said, recalling the warning to evacuate. Her house lost only a few shingles, with photos taken after the storm showing it standing whole amid the wreckage of almost all the surrounding homes.
Some developers are building homes like Paulson's with an eye toward making them more resilient to the extreme weather that's increasing with climate change, and friendlier to the environment at the same time. Solar panels, for example, installed so snugly that high winds can't get underneath them, mean clean power that can survive a storm. Preserved wetlands and native vegetation that trap carbon in the ground and reduce flooding vulnerability, too. Recycled or advanced construction materials that reduce energy use as well as the need to make new material.
Here's why there is a longer allergy season this year in North Florida | First Coast News 
People across the country are experiencing more severe seasonal allergies as a result of climate change. With Florida's mild winters, the allergy season lasts all year, but the cool down that fall brings, helps stop the intensity of pollen spread.
Pollen studies by Climate Central, a nonprofit organization, shows that North Florida and many other states, have an average of nine more 'freeze-free days' per year, making fall shorter and pollen-like ragweed grow longer. Carbon emissions and rising temperatures make pollen-like ragweed grow longer, faster, and seedlings spread quicker.
Two months ago, September 2023 was one of the hottest months on record for the planet, according to the National Oceanic and Atmospheric Administration, and the seventh warmest in U.S. history. The record-heating month can also be linked to the El-Nino Southern Oscillation pattern that significantly warms the Eastern Pacific Ocean, creating amplified weather patterns throughout the U.S. This summer's heat wave continued through the fall.
Lake County environmentalist advocates for environmental education to be required in Florida schools | Spectrum News 13
More than 30 years ago, Congress passed the Environmental Education Act of 1990, which required the U.S. Environmental Protection Agency to help with environmental literacy in schools.
In Florida, while some schools offer environmental education as an elective, rarely is it required. One lifelong Floridian is hoping to change that.
Feeding the future through environmental education is something Eileen Tramontana, executive director of Trout Lake Nature Center, has a passion for.
If you have any news items of note that you think we should include in our next roundup, please email The Invading Sea Editor Nathan Crabbe at ncrabbe@fau.edu. Sign up for The Invading Sea newsletter by visiting here.