By the Orlando Sentinel Editorial Board
Across Florida, more than 10 million acres of land are being managed for conservation — roughly 30 percent of the state's surface area. There are sandy uplands and swampy wetlands, miles of shoreline — including some of Florida's loveliest beaches — and vast expanses of majestic pine forest.
There are lands deep in the Everglades where a human voice may not have been heard in decades, thousands of undisturbed acres in military bases and NASA installations and working ranches where cattle roam on land that's also traversed by black bears, wild pigs, armadillos and other wildlife.
Some Florida leaders would tell you that it's enough. They have complained that the managers of these lands don't make enough use of protected property — that more conservation land should be open for hunting, fishing, camping, even the invasion of motorized ATVs and sport bikes that gouge paths through wildlands. Some even argue for more intense agricultural activities such as logging. They resist the notion that Florida needs to preserve more.
But people who love Florida for what it has always been — a collage of ecosystems teeming with diversity, dotted with sparkling lakes, shadowed forests and vast grassy prairies — are more worried than ever. They are watching growth accelerate in Florida, with trees falling and bulldozers rumbling in. They see wildlands being consumed 100, 200, 500 acres at a time, and plans pushing forward for mega-developments that are, in essence, new cities.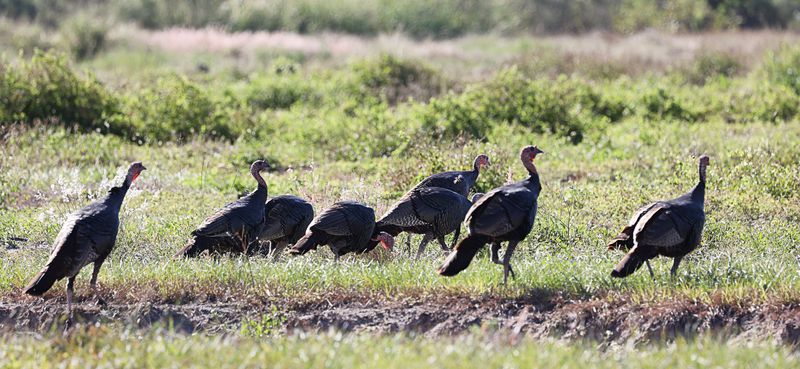 They believe Florida needs to act fast, and to be thoughtful about what is chosen for preservation if they want to preserve the natural beauty and diversity of our state.
As these developments cut across Florida, bringing humans with all their inevitable baggage — fertilizers, vehicles, asphalt, rooftops — they are severing the connections that at-risk species like the desperately endangered Florida panther need to survive.
Their effluent is pouring into waterways to catastrophic effect, stripping seagrass and killing manatees. No open land is safe. Unless steps are taken to save it. And now more than ever, those conservation efforts must be plotted strategically, linking existing preserves before the connections can be disrupted.
Florida was a pioneer in the effort to preserve land, with local, state and federal dollars pouring into funds set up for conservation. But there is a limit to what the state can spend. It's time to get strategic.
That need was described, in exquisite detail, in a recent report by the Sentinel's Kevin Spear. His five-part series focused on a rare and precious gift to the state, a 27,000-acre tract near Yeehaw Junction once intended to be the site of a mega-development called Destiny.
Through the generosity of Elizabeth DeLuca, widow of the billionaire founder of Subway, this land is now in the hands of the University of Florida Foundation and protected forever by an elaborate tangle of legal safeguards. Florida's environmental leaders say the tract, now known fittingly as the DeLuca Preserve, is a key link in a corridor of conservation land that spans the length of Florida.
Recently, biologists discovered that the property is home to a larger-than-expected population of the critically endangered grasshopper sparrow.
The acquisition of the property is a bright spark of hope. It should illuminate the selection of other properties for conservation — with an ever-present focus on lands that bridge gaps in the corridor, giving species like the Florida panther the ability to roam undisturbed without becoming tragic victims of roadkill or genetic degradation.
Florida's current leaders get it. Earlier this year, the Legislature passed the Florida Wildlife Corridor Act, which encourages purchases along the 18 million acres of land designated as part of the corridor. The legislation sets aside $300 million for corridor acquisitions (which could be augmented by some of this year's $100 million Florida Forever allocation, along with contributions from local conservation funds.)
Gov. Ron DeSantis advocated for the legislation, which he rightly counts as an environmental victory and signed with a flourish. As Nature Conservancy in Florida Executive Director Temperince Morgan said, "There is great economic opportunity in the preservation of our natural places, and the importance of access to nature for our physical and mental wellbeing, as well as for recreational opportunities cannot be understated. The signing of the Florida Wildlife Corridor bill demonstrates the Florida Legislature, Governor DeSantis and the state's continued commitment to protecting rare and sensitive lands."
But as we've also seen, plans can change with every election. DeSantis' predecessor, current U.S. Sen. Rick Scott, saw little value in conservation for most of his term and routinely violated the trust of voters who mandated that money be set aside for conservation, a position he only reversed in his last year in office.
During his tenure, lawmakers routinely tapped the Florida Forever fund for other priorities — including three years when the state drained the annual funding to zero — and Scott signed off on every raid, including two years of zero funding that came after voters resoundingly approved a constitutional amendment meant to dictate full funding.
That should prompt state leaders to move as fast as they can — and to focus on those properties that will strengthen the corridor the most. They are in a race against the bulldozers, the houses, the strip malls and office complexes. And once links along the corridor are severed, they can never be restored.
Editorials are the opinion of the Orlando Sentinel Editorial Board and are written by one of our members or a designee. The editorial board consists of Opinion Editor Krys Fluker, Jennifer A. Marcial Ocasio, Jay Reddick and Editor-in-Chief Julie Anderson. Send emails to insight@orlandosentinel.com.
"The Invading Sea" is the opinion arm of the Florida Climate Reporting Network, a collaborative of news organizations across the state focusing on the threats posed by the warming climate.